In 2018 Mission For Hope, Inc was founded by Reverend Leighton O'Connor to provide care for people who are experiencing homelessness and make people aware of the severe homelessness crisis which exists across North America.
In 2018 Pastor Leighton also founded the

Christian Jeep Association which is a fellowship of people across North America who love Jeeps and Jesus. There are 25 chapters of the Christian Jeep Association in North America.
In 2019 Pastor Leighton completed a six month mission trip in his Jeep Wrangler to 46 of the most homeless cities in North America. He traveled over 27,000 miles and partnered with local Jeep and off road clubs in each city to distribute blankets, hygiene kits, hats, gloves, socks, food, and water. Pastor Leighton and his teams did outreach to the homeless in Indianapolis, Chicago, Denver, Fairbanks, Anchorage, Seattle, Portland, San Francisco, San Jose, Salinas, Riverside, Los Angeles, Santa Ana, San Diego, Las Vegas, Phoenix, Albuquerque, Roswell, Dallas, New Orleans, Jackson, Mobile, Tampa, Saint Petersburg, Key West, Miami, Fort Lauderdale, Port Saint Lucie, Atlanta, Greenville, Nashville, Durham, Washington DC, Baltimore, Philadelphia, The Bronx, Springfield MA, Burlington VT, Portland ME, Boston, Revere, Lynn, Salem, Calgary, Prince George and Vancouver, BC.
In 2020 Mission for Hope, Inc provided care to hundreds of people experiencing homelessness despite the challenges of COVID-19. In 2021 they continue to provide care to people experiencing homelessness which is desperately needed because of the pandemic.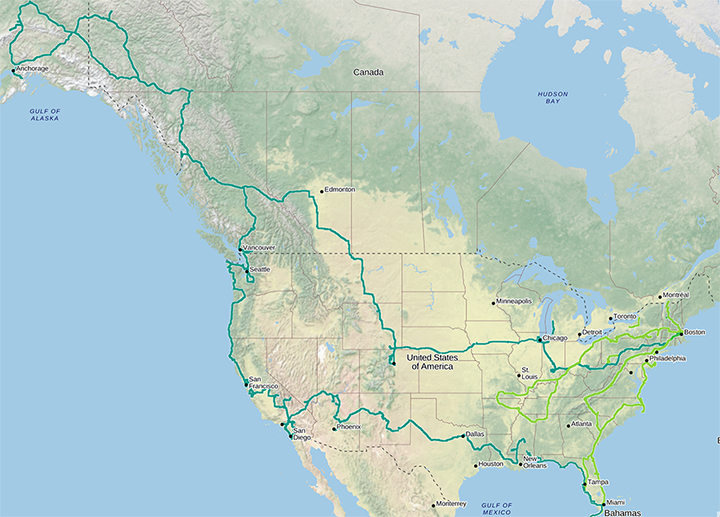 Route traveled by Pastor Leighton in his Jeep in 2019.

Mission for Hope | 2019 | 6 Months | 46 Cities